if you are new in the world of paving, you might be looking for using right paving material for your property renovation or construction project. At this point of time, one might stumble and come across tons of paver stones. However, it is important to choose right paving stone so that it can easily improve the curb appeal and value of the property. Hence, selection of pavers should be done carefully as per project requirement.
Pavers: An Improved Choice
Off late, pavers have become a number one choice for many people. The reason to use pavers is because of the fact that they come in numerous designs, colors, and types. The three most popular types of pavers that are widely available in the market are:
Concrete Pavers
 This kind of paver stones are usually made up of a dry mix of aggregate, sand, cement, dyes, and pigments. Although the manufacturing process can vary greatly, still lit bit of water is used. The mixture is then moved into a paver mould. The mould is vibrated and presses so that water sets in and binds the aggregate.
This kind of paver is suitable for driveways as they are strong and it can withstand huge weight. Also, usage of dyes allows concrete pavers to come in different color shades. However, sealants are needed to be used to maintain the color.
Stone Pavers
The stone pavers are usually divided into two types; natural and manufactured paver stones. The natural ones are usually excavated from rock outcrop. Some practical use of natural stone pavers like Granite is that it can be used in walkways, patios.
Similarly, Sandstone or Bluestone can also be used for patios, courtyards, and more. Granite is more appealing for the driveways as they are highly durable in nature. The natural stones look very natural due to their mining process. However, they are very costly.
Brick Pavers
This kind of paving material is usually made up of clay and shale. For this reason, they are also touted as clay pavers. The method that is used to produce brick pavers is the soft mud method. Hence, this paving stone are very economical.
Usually to make a brick paver stones, raw clay is mixed with 25-50% sand so that it does not shrinks. The color of this paving stone is derived from the clay and shale materials that go into its making. The color usually ranges from light to dark earthy red tones.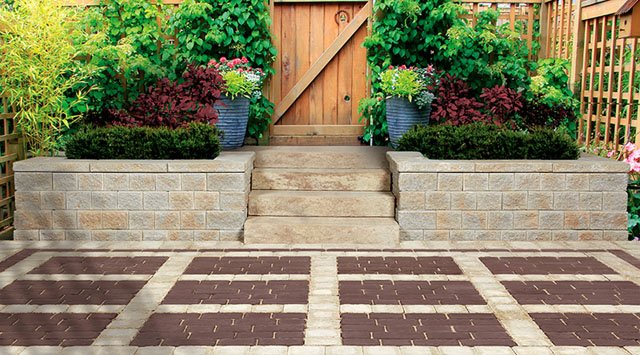 Other Types
However, the choice of pavers doesn't ends here. There are many more choices available.
Permeable Pavers
It is environment friendly and it divided into:
The pores in the pavers allow water to flow trough it and thus helping to conserve water and prevent soil erosion.
It is considered to be the best kind of paver stones. They have gaps which are sealed with sands allowing water to easily seep into the soil.
Hopefully, once you have understood the differences between the pavers choosing right kind of pavers would be great for improving the value of the home.